Q: What is the world that Nine Inch Nails made, and what was the world that made Nine Inch Nails?
A: March 2011: Issue 78 of 33 1/3 Series, Nine Inch Nails Pretty Hate Machine
The 33 1/3 Series is known for having each author take a unique perspective on the music and culture of one specific album. Canonical? Germinal? Important? Memorable? Genius? Most of the books take that line of argument, while a few others use the sound and times of one particular album to evoke a moment, set a place, develop characters. Nine Inch Nails Pretty Hate Machine is one of the latter, a work of deep ethnographic and sociological work into the life, times, and mythology of the band, tracing the fictions fans and the media have told about Trent Reznor.
What is Pretty Hate Machine?
...The album: an dance underground to mainstream alternative sleeper hit that began as after-hours demos by mercenary new wave keyboardist Trent Reznor, sharped by listening to the electro funk and black pop of mid-80s Cleveland, and disciplined into sparse industrial dance by a handful of the UK's best industrial producers. The book: traces how the album became beloved in the underground, found its mass at Lollapalooza, and its market at the newly opened mall store Hot Topic. For fans, Nine Inch Nails was a vehicle for questioning God, society, the family, sex, and the body. In ten raw, heartbreaking oral histories woven through the book, fans living in the post-industrial Midwest discuss the successes and failures of the American dream as they are articulated in Nine Inch Nails' music.  Pretty Hate Machine is at once singular and representative of how popular music can impact history and change lives.
Find an excerpt from the Pretty Hate Machine book at Continuum's 33 1/3 Blog.
...I'LL DO ANYTHING FOR YOU, JUST TELL ME WHAT YOU WANT...
Would you like to buy things related to NINPHM33.3?
Would you like a black raw silk hand bound and numbered copy of the book, with the possibility of an inscription for yourself or a loved one? 45 will be available at readings.  125 available sold out at Etsy. The remaining 30 are available through Store Envy.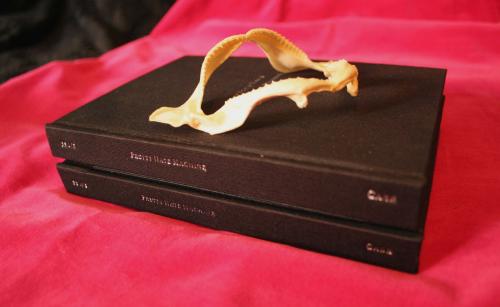 Would you like a black, cotton/poly t-shirt of cartographer Scott Gursky's map of the post-industrial Midwest (page 18), which reads "The steel heart of America is full of pretty hate machines" from me for $15 postpaid in the US.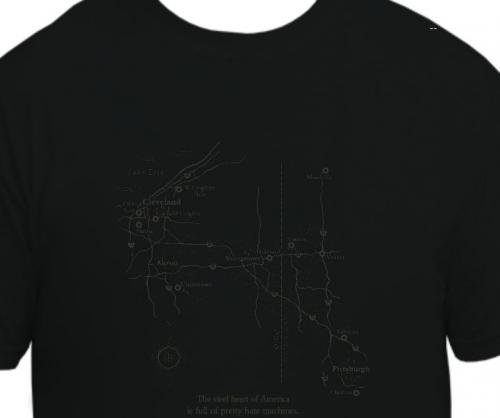 Would you love die-cut bookmarks in groups of two that match the book for $1.50 postpaid in the US.?
Would you love to know about NINPHM book events?
April 7, 2011• NYC Greenlight Books Thursday, 7:30 PM An Evening of Music Writing with 33 1/3 686 Fulton Street AKA: A giant fishbowl of questions randomly selected and answered by four REMEMBER THE 90s pop writers. With Christopher Weingarten, author of Public Enemy's It Takes a Nation of Millions to Hold Us Back; Hank Shteamer, author of Ween's Chocolate and Cheese; and Bryan Charles, author of Pavement's Wowee Zowee.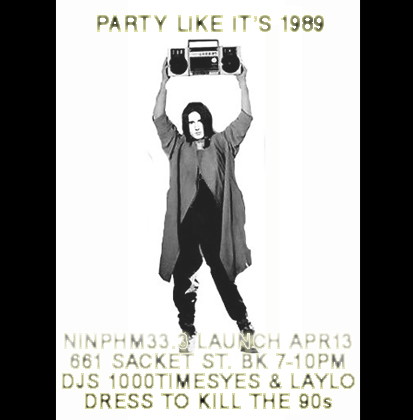 April 13, 2011 • NYC Party Like it's 1989! Park Slope, 7pm-9pm and beyond. 661 Sackett Street Brooklyn, NY 11217 
It's the official launch for the book, with historically informed DJ performances by Whiney G (hip hop) and Laylo (darkwave/industrial), periodic readings and remarks + special editions, bookmarks and t-shirts on hand. In celebration of the time before Hot Topic, the best 1989 look wins a special edition NINPHM33.3 book. Dress to kill the 90s. At the (Punk Rock) Jon Hart's bar, The Sackett.
April 23, 2011 • Talk on "Leader of the Black Parade" AKA the Hot Topic chapter at the Urban Catwalk conference, 11:45am. Yale University New Haven, CT. Free and open to the public.  
Would you like to review the book or interview me?
The ninphm press release is here. If you would like to review the book on your blog, in your magazine, or in your paper, you can contact Claire Heitlinger: heitlingerpublicity at gmail dot com
Would you like to share your story of NIN/PHM or reading NINPHM33.3?
Send your story about how phm affected your life, or request to be put on the mailing list for book events: iamaprettyhatemachine at gmail dot com
Would you just like to see the book and know the table of contents?
Table of Contents
Introduction
Map
The Becoming
Mercer, Pa.
"Head Like a Hole"
"Terrible Lie"
"Down in It"
Youngstown, Ohio
"Sanctified"
"Something I Can Never Have"
"Kinda I Want To"
"Sin"
Cleveland, Ohio
"That's What I Get"
"The Only Time"
"Ringfinger"
Leader of the Black Parade
Notes
Credits
Bibliography
Thank you to all for your patience and support on this project.
(Brought to market March 24, 2011, published by Continuum, 33 1/3 Series)