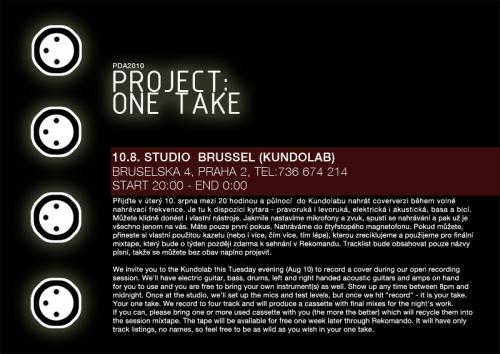 You are invited to Kundolab this Tuesday evening (Aug 10) to record a cover during our open recording session. We'll have electric guitar, bass, drums, left and right handed acoustic guitars and amps on hand for you to use and you are free to bring your own instrument(s) as well. Show up any time between 8pm and midnight .

Once at the studio, we'll set up the mics and test levesl, but once we hit "record" - it is your take. Your one take.

We record to four track and will produce a cassette with final mixes for the night's work. If you can, please bring one or more used cassette with you (the more the better) which will recycle them into the session mixtape. The tape will be available for free one week later through Rekomando. It will have only track listings, no names, so feel free to be as wild as you wish in your one take.

10.8. STUDIO  BRUSSEL (KUNDOLAB)
BRUSELSKA 4, PRAHA 2
TEL:736 674 214
START 20:00 - END 0:00
Kundolab Open Studios: One Takes is a Public Display of Affection.